Volunteer registration is now closed
We are grateful for the support of over 350 volunteers who registered to support the event this year. Volunteer registration is now full. If you have questions, please contact Volunteer Coordinator Carolina Brown at VGFWvolunteer@fwwaa.org.
---
Valor Games Far West is full, and we are not collecting additional athlete applications for 2017.
Please keep in touch for upcoming program and event dates.
---
Spectators:
Register for Base Access
---
About the Valor Games
In partnership with the U.S. Coast Guard and the Northern California Regional Paralympic Sport Program, Far West Wheelchair Athletic Association will host Valor Games Far West from June 2-5, 2017 on Coast Guard Island in Alameda, CA.
This event is for any Veteran or active duty service member with a disability who is eligible for VA healthcare, and lives in the Western Region of the United States. The goal of the Valor Games is to introduce adapted sports to attendees in order to promote ongoing adapted sport participation in their community.
Join us June 2-5, 2017
Valor Games Far West will be back on Coast Guard Island, June 2-5, 2017. Check out our new promotional video!
Quick Links
Latest News
2016 Event results and photos are now available!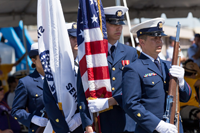 Photos courtesy of Task Force ISO
Become a Sponsor
We are grateful for the support of our collaborating Northern California Paralympic Sport Clubs, the U.S. Coast Guard and Coast Guard Island, and our sponsors.
Valor Games Far West sponsors help support this event as well as ongoing sport programs for Veterans. Learn more about sponsoring or donating in-kind items, or hosting a resource booth.