About the Valor Games
In partnership with the U.S. Coast Guard and the Northern California Regional Paralympic Sport Program, Far West Wheelchair Athletic Association hosted Valor Games Far West May 30 – June 2, 2019 on Coast Guard Island in Alameda, CA.
This event is for any Veteran or active duty service member with a disability who is eligible for VA healthcare, and lives in the Western Region of the United States. The goal of the Valor Games is to introduce adapted sports to attendees in order to promote ongoing adapted sport participation in their community.
Quick Links
We are no longer accepting Athlete Applications for Valor Games Far West 2019.
Volunteer Registration closes on Friday, May 24.
Keep in touch to receive upcoming dates and information about programs near you, upcoming events, and our 2020 dates.
Volunteer today!

Click to sign up online
Show Some Love to Our Veterans!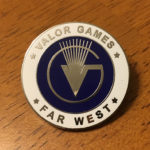 With your donation of $15 or more in support of Valor Games Far West, a Veteran will receive a limited edition Valor Games Far West trading pin, and a hand-written note that we'll write on behalf of you! Learn more about how you can donate a pin!
Become a Sponsor
We are grateful for the support of our collaborating Northern California Paralympic Sport Clubs, the U.S. Coast Guard and Coast Guard Island, and our sponsors.
Valor Games Far West sponsors help support this event as well as ongoing sport programs for Veterans. Learn more about sponsoring or donating in-kind items, or hosting a resource booth.
Comedy & Music Fundraiser
Sunday, May 26, 2019
7-10 pm
Alameda Elks Lodge
'
Comedy Fundraiser
Thusday, May 16, 2019
8 pm
San Jose Improv, Adults Only (18 and up)
Note: show not hosted by VGFW, but proceeds benefit VGFW
Support us on Amazon