About the Valor Games
In partnership with the U.S. Coast Guard and the Northern California Regional Paralympic Sport Program, Far West Wheelchair Athletic Association hosted Valor Games Far West May 30 – June 2, 2019 on Coast Guard Island in Alameda, CA.
This event is for any Veteran or active duty service member with a disability who is eligible for VA healthcare, and lives in the Western Region of the United States. The goal of the Valor Games is to introduce adapted sports to attendees in order to promote ongoing adapted sport participation in their community.
Quick Links
Save the Date: Valor Games Far West 2020, June 11-14, 2020
Keep in touch to receive upcoming dates and information about programs near you, upcoming events, and our 2020 dates.
Do you want to spectate?
Contact Dave Peetz, Operations & Security Coordinator
Show Some Love to Our Veterans!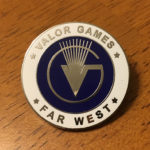 With your donation of $15 or more in support of Valor Games Far West, a Veteran will receive a limited edition Valor Games Far West trading pin, and a hand-written note that we'll write on behalf of you! Learn more about how you can donate a pin!
2019 Results & Media
We'll post 2019 results and photos after the event. Check the
archives
for information about past events.
Support our Veterans
Your donation to the Valor Games Far West helps support this event as well as ongoing sport programs for Veterans. If you are interested in sponsoring or donating in-kind items for Valor Games Far West, please contact us. Thank you for your consideration!